Two dear friends visited me at school this weekend, and I can finally say that I've had a happy New York weekend this semester. We went to the Whitney: Edward Hopper on one floor, Picasso's influence on American artists on another. Hopper painted during my favorite era--early 20th Century--and he

gets it.

"Soir Bleu":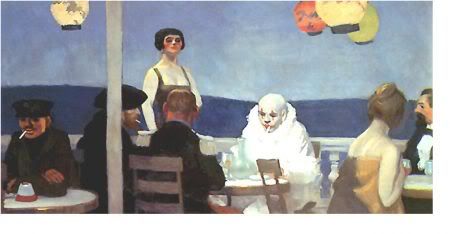 The three of us stood outside my subway stop this morning, exchanging farewells before my dears trotted off to their respective locales. It being Sunday and all, I was wearing yoga pants, and asked before we left for bagels if they were too tight to wear outside. The pants are fine, they said. So we got bagels and walked back, passing the old man who spouts conspiracy theories to passerby about the NYPD knowing 9-11 was going to happen. Good thing the Jesus Guy (who wanders up Broadway hollering about loving his Lord) usually waits until nightfall to surface.

Anyway, as we talked in a cluster above the subway, a short-haired, relaxed-fit-jean woman with a wide smile and a child in tow approached us from in back of me.

"This might sound strange," she said to me, "but you look really good from behind." She turned to all three of us now, unfazed by our wide-eyed bemusement. "You all do, because you're young."

She and the silent little girl holding her hand ambled away.